The case for Auston Matthews scoring 50 goals this season
Reading Time:
3
minutes
The 2016 draft launched the emergence of two young superstars who will be compared, contrasted, and analyzed over the course of the next two decades. You know the story: Auston Matthews blazes his own trail and dominates the Swiss league. Patrik Laine has one of the most incredible 17-year old seasons in history, and makes a better-than-expected case to go first overall.
Even better? Laine and Matthews both wind up in hockey-crazed Canadian markets – ones that were already cooking up cores of elite, young talent.
The general consensus appears that Laine will be the better goal scorer, and Matthews, while still being an excellent scorer, will impact the game in a way that centermen do: winning battles down low, checking top opposition, and driving play in the correct direction.
Laine is the better shooter, without a doubt. His shot is the eighth wonder of the world.
Sponsored message. Article continues below.
But could Matthews still be the better goal scorer?
Forget about his assist totals (forever)
The general opinion around Auston Matthews seems to be that his assist totals will climb and his goal scoring numbers will remain stagnant or drop because of his high shooting percentage. Improved quality of linemates is also another reason we're hearing for those assist totals to spike. That all makes sense, but..
Auston Matthews is a goal scorer.
More specifically, Auston Matthews is the best in-tight goal scorer in the National Hockey League.
Personally, I don't care how many assists he gets. Do you know how many assists Stamkos got when he scored 60 goals? Or Ovechkin? Nah.
After watching all 40 of his regular season goals last season, it's clear there is no one better suited to score goals the way he does. Matthews is an elite poacher. He's a player who, when presented with a hockey puck less than 12 feet from a hockey net, will have fired a pinpoint wrist shot within a half-second. All Matthews needs is two touches, and the puck is launched. With incredible accuracy.
Like this: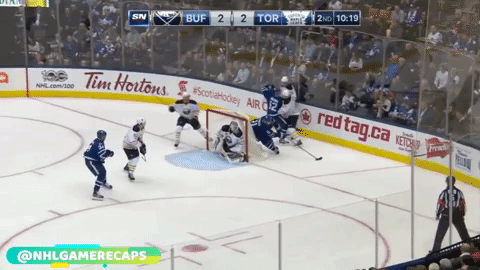 or like this: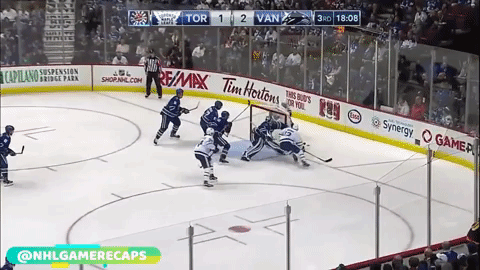 Look at that release.
What's more, is that Auston Matthews scored 32 even strength goals last year. Big deal, you say? Well..
Since 2005-06, there have been only 11 players to score at least 32 goals 5-on-5. The list is an impressive one, and it includes Sidney Crosby, Alex Ovechkin, Steve Stamkos, Ilya Kovalchuk, Jarome Iginla, Evgeni Malkin, and Corey Perry. Brad Boyes somehow made it too. Way to go, Brad.
So just 11 players have scored 32 goals or more 5-on-5 in the last 12 NHL seasons. Matthews is already hangin' out with some pretty impressive company.
What about when we filter for players to score 32 even strength goals as a teenager? The list gets even more refined:
Auston Matthews
–
In fact, you can take that same filter, include all the way back to 1990, and only Eric Lindros will join Matthews on that list.
Matthews' 40 goals last year were real. They weren't because he had poor linemates and no one to pass to. They're because Auston Matthews has an incredible skill set geared towards scoring goals around the goalmouth, and he makes it look easy.
I'm looking at the way he scored those goals, I'm looking at the consistency with which he scored those types of goals, and I'm saying there is not a chance Matthews' drops below 40 goals.
Matthews has a strong, low centre of gravity, and whips a heavy wrist shot. His ability to find the puck in dangerous areas is uncanny, and better yet, has elite wingers developing alongside him with Mitch Marner and William Nylander. That 40 goal plateau could be more of a floor than a ceiling for the Arizona-born man.
The bonus is that yes, Matthews is obviously elite enough of a player to create top quality chances for his teammates, too. His assists should increase as everybody hopes, just as the quality of his linemates will, too. The most challenging part of estimating Matthews' goal scoring production will be Mike Babcock's insistence that he handle the opponent's top players while still scoring goals regularly. Matthews, I'm sure understands that two-way play will be required to become the top center behind McDavid whenever Crosby's reign ends. But he'll still score goals.
Patrik Laine is without a doubt hockey's next (and current) great shooter, and may withstand Auston Matthews' assault on his greatest-goal-scorer castle. But don't sleep on Matthews' ability to score either. They're not as sexy as Laine's bombs from the left circle, but his talent for fishing out loose pucks combined with his ability to sling a wrister in a half-second make him as dangerous a scorer as anyone.
Possibly the most dangerous.
See also:
The Toronto Maple Leafs offense is a juggernaut
The 2015 Draft is looking insane
What if Jake Guentzel is actually a star? (regardless of Malkin and Crosby?)