Vegas has established a quality long term core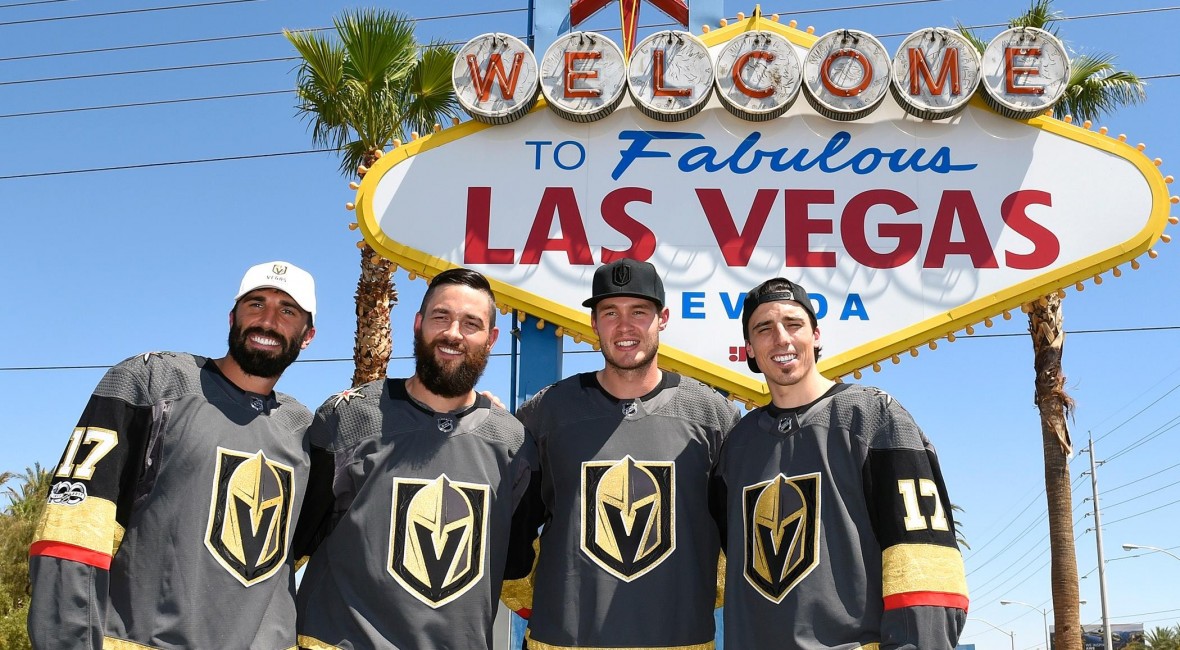 Reading Time:
4
minutes
Vegas got some okay players, a few good players, and a few fantastic pieces. Shea Theodore, Alex Tuch, and Marc-Andre Fleury represent the fantastic.  Pierre Edouard-Bellemare and Clayton Stoner probably represent the "okay" group. There's quite the spread.
Nonetheless, Vegas has quality assets they can flip at the deadline for younger talent and draft picks. How agressive will McPhee be? He already has 4 or 5 quality long-term pieces in play.
James Neal, Jonathan Marchessault, David Perron, Jason Garrison, and Lucas Sbisa are all on expiring contracts, and Vegas should be able to swap them for more mid-tier prospects and draft picks. The plan early must be to continue to hoard assets, and establish the core they want for Vegas not in 2018, but in 2022.
What's in store for the most interesting expansion team in league history?
Offensive Rating + Formula
Each player will have two ratings: a Current and Potential rating.
Sponsored message. Article continues below.
Alex Tuch for example, is a 4, 1. This mean's his current rating is a 4th line forward, but his best case scenario is a top line winger.
Click here for more about Current and Potential Ratings.
Haula 3+, 2 – Shipachyov 2, 2 – Neal 1, 1
R. Smith 2, 2 – Eakin 2, 2 – Marchessault 2, 1?
Bellemare 4, 4  – Karlsson 3+, 2? – Perron 2, 2
Lindberg 3, 3+  – Leipsic 4, 2? – Pulkkinen 4, 3
Carrier 4, 3 – Tuch 4, 1?
James Neal, David Perron, and Jonathan Marchessault's (if you trust his 30-goal showing last year) all have scored at top-6 rates in the NHL before, with Neal scoring 40 a few times. Can two of those three form a decent attacking line with Shipachyov?
Speaking of which, Vadim Shipachyov should prove to be a crafty signing – at worst giving Vegas a skilled option at center ice. If Cody Eakin, William Karlsson, and perhaps Brendan Leipsic down the road can check the opponent's top lines, then Shipachyov might be able to unite with Neal and a skilled depth player like Teemu Pulkkinen to form a capable attacking line.
Vegas reminds me a lot of Team Europe at the 2016 World Cup. Lacking in high end talent, but with a coach like Gerrard Gallant, may be able to play a hard and fast checking game. It could be foolish to decide that they're short on NHL talent. They're not.
Forward Ranking: Weak (30th of 31)
Defense Rating + Formula
Theodore 2, F? – Garrison 2, 2
Schmidt 2, 2 – Miller 3, 2+
Sbisa 3, 3 – McNabb 3, 3+
Engelland 3, 3
Vegas ended up with a smorgasboard of defensemen, with as many as 10 players competing for 7 spots. Theodore, Schmidt, and possibly Miller represent the core they'll want to build around moving forward. McNabb is a solid puck moving defenseman, but they'll want better as time allows them to become more picky.
Since Theodore has F potential, Vegas is off to a better start than anticipated. But as long as Jason Garrison remains their second or third best defender, this team's D (as expected) cannot be considered a strong one.
Defense Rating: Weak (31st of 31)
Goaltending Rating + Formula
Fleury 1, 1 – Pickard 2, 1
Marc-Andre Fleury represents one of the best starts in net an expansion franchise has ever received, with perhaps the Predators being the exception with Tomas Vokoun.
From 2008-2017, filtering goalies with at least 300 games played, Fleury sits 16th out of 28 in save percentage, with .915. That shows Fleury most certainly is capable, and he is absolutely among that list of goaltenders who can reliably start 60 games. But it also means that perhaps Fleury is not a franchise goalie, just a starting goalie. Which, I'm sure Vegas has no problem admitting. The Thrashers had Norm Maracle to start with, so… no complaining, Vegas.
Goaltender Rating: Okay (19th of 31)
Intrigue
Vegas is lacking top end talent on the blue line, but there is enough depth at forward for a surprisingly acceptable offense. Alex Tuch and Shea Theodore are certainly the most valuable long-term pieces they acquired through expansion draft maneuvering. Tuch at least should become a quality 3rd line NHLer and Theodore may already be a top-4 defenseman, but one with a sky-high offensive ceiling. He's posted elite offense in both the WHL and AHL, and at 22 years of age is ripe to prove he can make an impact at the NHL level.
Vegas will need to put their expiring contracts in a position to excel and mercilessly sell them at the deadline. If they get any return for the five previously mentioned players (unless they see fit to extend them), they could accumulate a few top-90 draft picks, and possibly some lower ceiling prospect talent.
It'll be about assessing the talent they've acquired by 2020 or 2021. Until then, acquire prospects, accumulate as many draft picks as you can, and swing for the fences.
5 Most Valuable Assets
Cody Glass D, F
Shea Theodore 2, F?
Nick Suzuki D, F?
Eric Brannstrom D, 1?
Alex Tuch, 4, 1?
Top 3 Prospects
Cody Glass D, F
Nick Suzuki D, F
Eric Brannstrom D, 1?
Prediction
Vegas should finish last in the Pacific Division. But this team might compete better than people think. They'll certainly be ranked behind Pacific Division minnows Arizona and Vancouver, but I wouldn't be surprised if they outplayed them this year.
This team drafted high end skill in 2017, and as those picks slowly start to have an impact at the professional level, it'll be fascinating to see just how long it takes before we can stop referring to them as an "expansion" team, and just as a team competing for the playoffs like everyone else.
Offense: Weak (30th of 31)
Defense: Weak (30th of 31)
Goaltending: Okay (19th of 31)
Verdict: 8th in the Pacific Division
Playoffs: At least three years away, and likely five.
You can find the rest of our Franchise Previews here.