How the Blackhawks' offense won three Stanley Cups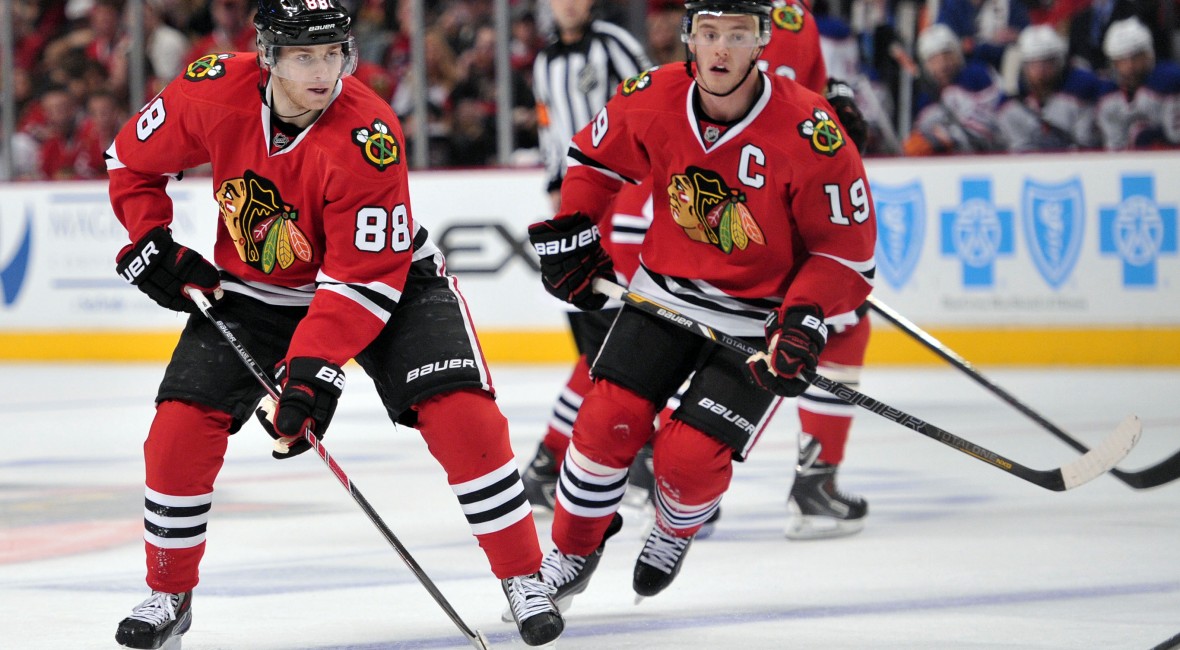 Reading Time:
4
minutes
The NHL is now 13 seasons into its life as a salary capped entity, and it's taken some time for the dust to settle. Starting with 16 power plays per game and 12 year contracts, the league has now shifted to a conservative landscape dominated by cheap, inexpensive talent and one where veteran players are now worth professional tryouts instead of 7 year commitments.
Throughout that crazy, maladjusted world, one certainty has emerged. And it's that the Chicago Blackhawks have not only set a precedent for a perfect salary cap era rebuild, but also that it should be possible to distill it into a repeatable formula.
Will it be a perfect cookie cutter representation? No. But it will certainly allow us to set up a model that up-and-coming franchises can be compared to. And that should be kind of fun.
The Blueprint
To start digging into the 'Hawks blueprint, we're going to look at their 3 Stanley Cup winning rosters.
We're then going to assign a label to each player denoting their value for that particular year. Patrick Kane, for example, will get an "F" for "franchise player". Patrick Sharp would get a "1" for top line player. Ben Eager would get a "4" for 4th line player. Michal Handzus would get a "2" for 2nd line center.
Sponsored message. Article continues below.
Click here for more about Current and Potential Ratings
It will give us some sort of blue print to compare, and will set the stage for some serious projection with other franchises. Do up and coming teams like the Jets, Sabres, Coyotes, and Hurricanes have enough of the right pieces? What about floundering teams like the Devils and Avs? Where did they go wrong?
It's all about establishing a point for comparision.
Without further adieu, let's check out the Cup winning rosters and their formulas.
2010 Stanley Cup Roster
2013 Stanley Cup Roster
2015 Stanley Cup Roster
I've taken the most common trends throughout each team, and mashed them into a one-size-fits-all formula that encapsulates the core of each Blackhawks roster. This should give us a pretty clear idea of what type of offensive talent is required to even consider a team capable of winning a Cup.
Unsurprisingly, the 'Hawks were seriously deep up front, and had 4 elite forwards to build around for every team with Toews, Kane, Hossa, and Sharp.
The Formula
There it is: the Blackhawks' formula to winning three Stanley Cups.
We'll start with the fact that this is probably not a perfect formula, and there is plenty of room for your own opinion. But it shows a few key ideas:
Chicago had four top line forwards at all times, which means they never had a "first" or "second" line. They had "1a" and "1b".

They always had 2 or 3 younger players with some offensive potential/skill to rotate among their top guns. They also were generally wingers (Saad, Ladd, Buff, Teravainen, Bickell).

The 'Hawks employed a veteran as their 3rd line centerman every single year. That allowed the checking line to take one of the opponent's top lines, Toews could take the other, and the "second line" center (or the person with Patty Kane on their wing) could attack the team's bottom 2 lines. It's why they brought in Antoine Vermette for their 2015 Cup even though they already had Brad Richards.
Though still being solid at center ice, ultimately Chicago went away from the traditional idiom of "you have to be strong down the middle". This of course is in stark contrast to the Penguins (Crosby-Malkin) and the Kings (Kopitar-Carter). They instead used the power of their top wingers, Patrick Kane, Marian Hossa, and Patrick Sharp to make their roster incredibly flexible. They were able to bank on a veteran center becoming available at the deadline every year, and used young and cheap talent to fill in their last top-6 spot on the wing.
The more you look at their centers, the more clear it becomes that they all were two-way centermen, perhaps with the exception of Brad Richards. Toews-Bolland-Madden was the trio in 2010. Toews-Handzus-Bolland in 2013, and Toews-Richards-Vermette in 2015. The composition of their center ice was deliberate, and it allowed their dynamic wingers to match up in a multitude of excellent combinations.
It's no wonder Coach Q is known for his line juggling – his teams have been completely built for it.
Ultimately, the Chicago offensive formula boils down to 3 key points:
A franchise two-way center complemented by more two-way centers behind him

3 top line wingers, leaving only 1 top-6 wing hole to fill every year

Impeccable drafting that allowed cheap, offensively inclined players to move up and down the lineup.
Now comes the fun part:
What about other teams building exciting young cores? The Winnipeg Jets have Mark Scheifele, Patrik Laine, Nik Ehlers, and Kyle Connor to be excited about. The Sabres have Jack Eichel, Sam Reinhart, Rasmus Ristolainen, and Ryan O'Reilly. The Hurricanes have Jeff Skinner, Sebastian Aho, Elias Lindholm, and Justin Faulk to build with. How 'bout the Coyotes? They've been rebuilding for half a decade now.
We'd be able to label those players pretty easily.
Will they create enough 'F's and '1's in the depth chart to be a contender? Can they acquire enough talent through the draft to complement their expensive stars? Only time will tell.
We're going to make our best projections, and we're either going to be completely wrong or insanely correct, and have fun doing it.